Nick Lockwood
Nick is the owner and operations manager at DBK Painting. He has been a professional painter for over 10 years and bought DBK Painting in 2020 after being a longtime employee of the company. Nick has an eye for color and a steady hand. His love of the trade is visible in the work he performs with his team.
Nick Lockwood's Latest Posts
Recent Articles #1
1/27/2010 Mike, a HUGE thank you for all your hard work today – we LOVE the room (jeff was home briefly and was like "Wow"!) i am so excited to put everything together and it means so much that you added your incredible skill to this baby's room! Thanks again, Christen
Recent Articles #2
DBK Painting is on Facebook.  Become a fan and leave questions or comments.   Click the link below to take a look at our page. http://www.facebook.com/pages/Schaumburg-IL/DBK-Painting-LLC/52182536260
If you need some fresh color ideas or decorating inspiration, Benjamin Moore has released their color trends for 2009 along with some imaginative decorating ideas.  You can visit any Benjamin Moore retailer for more information.  To find a retailer near you, do a search at http://benjaminmoore.com. Benjamin Moore Packs Colors Forecast With Decorating Inspiration (MONTVALE, […]
Coming this spring (it isn't in the midwest yet, but hopefully soon), Benjamin Moore will be releasing their new 'Natura' zero-VOC paint.  Read the press release below for highlights of Benjamin Moore's latest "green" paint. Benjamin Moore Continues Benchmark Achievements with Creation of Natura™ Zero-VOC Interior Paint Fifteen years ago, Benjamin Moore introduced its first zero–VOC paint, […]
I often get asked about the exposure to paint fumes during and after painting for women who are pregnant or for young children.  If a professional is doing the painting for you, your exposure will be very minimal and most likely none at all.  Once paint is dry and with good ventilation you are completely […]
Do you have a general question about painting or the process for completing your painting project?  Post a question here and we will be happy to answer.  Or visit our contact page and contact us via phone or email.
 10/22/2009  Hi Mike, The painting looks fantastic!! We are so pleased with how everything turned out. You really do wonderful work. Thanks again, Melissa 08/17/2009 I just wanted to say how much I love the painting that you did in our house. I am getting so many compliments on my cool red wall. I am […]
12/24/2008 Hi Mike, I just wanted to let you know that I love the nursery paint!  The stripes look even better than I imagined. Thanks again!   Becki   5/29/2008 Hi Mike, I just wanted to tell you how much we're enjoying our "new" rooms.  You did a great job, so thank you! Susan   5/01/2008 […]
7/19/2007 Thanks, Mike!  The place looks great!  Thanks for doing a terrific job.  We'll definitely recommend your company to our friends. Brooke
8/02/2006 Mike, Several of the neighbors have been in the house, as well as the company we had over the weekend – and they just love the colors.  Me too!  It is such a nice difference. Thank you for your great work! Kathy   1/18/2006 Thanks Mike. You did an outstanding job on our home.  […]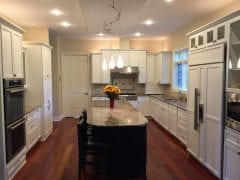 Painting your existing cabinets can be a great way to update your kitchen and it can be done for a fraction of the cost to purchase and install new kitchen cabinets. The many steps we follow when painting kitchen cabinets professionally and properly are as follows; the whole process takes time, patience and attention to […]