We often get asked what kind of paint we prefer to use. This seems like a simple and easy to answer question, but it usually leads to us asking questions back to our clients. There are multiple manufacturers of paint available in the Northwest Suburbs of Chicago where we are located. We have Benjamin Moore, Sherwin Williams, Behr, Glidden, Valspar , Muralo and that is just to name a few available to us. We could easily say we prefer one of these manufacturers; however each manufacturer has multiple product lines available and each serves a specific purpose or market.
Which product we recommend will depend on our clients' needs and their preferences.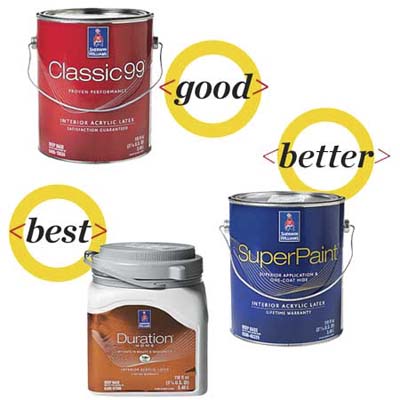 The manufacturers we use the most are Benjamin Moore and Sherwin Williams. These are both easily accessible in our area and both have a wide range of product options for our clients. We will use other manufacturers upon request, but these two are the manufacturers we know the best. All manufacturers carry contractor product lines which can be used in certain areas of your home like closets, the garage or if you are planning to sell or rent. Doing so can save on your budget. They also both have good, better, best product lines. This is where the questions we ask are helpful in deciding what is best for our clients' needs and their particular space or situation.
What separates each product lines quality level?
What is the difference between each good, better, best option? This usually comes down to the chemical properties of the paint, ease of application and how it performs over time. Every product describes the below in some way or not at all depending on the product quality.
Hide and coverage
Mildew resistance
Color retention
Touch up capabilities
Splatter resistant
Durability
Washability
Sheen and colors available
The biggest difference is what kind of pigments, binders and the percentage of solids are in each product line. The higher the quality levels of these parts, the better the product and ultimately the higher the upfront cost.
The upfront cost of the paint isn't necessarily the cost to be concerned with depending on our clients' needs. We like to consider the projects life cycle when recommending product lines. Despite costing more per gallon, top-quality paints can be more economical since they last longer and cost less over time.
What product line is right for your project?
Do you have a manufacturer preference?
Let us know or give us a call to request an estimate and we will help you find out what product is best for your needs.
[contact-form to='info@dbkpainting.com' subject='Inquiry'][contact-field label='Name' type='name' required='1'/][contact-field label='Email' type='email' required='1'/][contact-field label='I need help with…' type='textarea' required='1'/][/contact-form]