Does your project involve more than painting? 
Are you wondering how to coordinate the different trades needed to complete your project and who or what should be done first?  These is probably one of the top questions we get asked when a project involves more than painting.
We often get asked when the painting should be completed along the home improvement timeline. This all depends on the overall project and its scope.  It will also depend on your contractor's preferences, your personal preferences and your timeline.  We can provide some insight to help guide you to find out what is best for your project.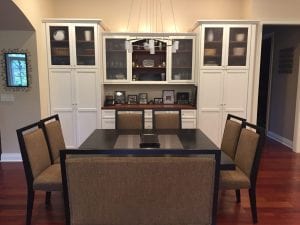 If you ask five different contractors it is very likely you will get five different answers.  Each trade has a preference and usually the sequence tends to benefit their particular trade when you ask who should come first.  Sometimes the sequence of work isn't all that important, but other times it can make or break your project getting completed when you want it to be, getting completed correctly or getting completed without costing you extra due to damaged caused by other trades.
Below is a sequence of work that would be ideal (of course depending on the overall scope of your project and what is involved):
o Demolition
o Framing/Roof/Windows
o HVAC, Plumbing, Electrical, Low Voltage
o Drywall, Taping/Finishing, Priming of Drywall
o Hardwood (initial install)
o Carpentry – Interior Crown, Doors, door frames, casings and (baseboards for carpeted rooms)
o Hardwood (stain and first two topcoats), Tile Floors
o Cabinets/Vanities – Some Finish Plumbing
o Carpentry – Baseboards, Base Shoe, Wainscoting
o Painting
o Finish Electrical (lights, outlet plates, etc), Vent covers
o Final buffing and final topcoat on hardwood floors
o Carpeting
o Touch-up Painting (if needed)
Not every project is ideal and can be completed in this exact order.  As stated above, some contractors prefer to do certain aspects of a project ahead of others.  Sometimes scheduling conflicts force one trade in front of another.  At DBK Painting, we prefer to be as close as possible to one of the last trades into a project.  If we start the painting too soon, we often have to fix work due to issues or damage caused by other trades.   We paint in occupied homes everyday where our clients have personal belongings and furniture in the rooms we paint.  We are used to protecting floors, railings, cabinets, counters, furniture, etc.  It is easy for us to protect items from getting paint on them, but it is often harder for other trades to protect painted surfaces.  As an example, if you plan to get your floors refinished, it is okay to have them done before we paint; we can protect them.  However, depending on the flooring company and what kind of dust extractors they use or don't use, there is a chance of sanding dust from the floors getting all over your freshly painted walls, trim and doors. 
Paint can take up to 30-45 days to fully cure, so even with washable paint, if it isn't cured, you could ruin the finish if you try to clean the walls. The last thing we want… is to do our work twice.
When it comes to your next home improvement project, give us a call sooner then you need us and maybe we can provide some guidance as to what will be the best sequence of work so your finished project looks amazing, stays on budget and is finished on the timeline you are hoping for.