This seems like a simple question and some might make a fast recommendation of a particular brand of stain, however…
Decks are a very tricky item to finish properly.  There are so many variables that have to be considered prior to applying any kind of stain.  If we were planning to stain your deck, we would start by asking a series of questions and would also be sure to discuss the proper expectations for the life of a product applied to your wood deck.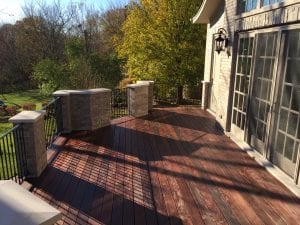 Where is your deck located?
What type of climate is the deck going to be subjected to?
What kinds of exposure will the deck have?
What direction does the deck face?
Is the deck covered?
What type of wood is the deck made of?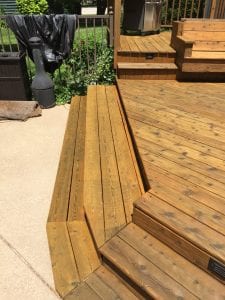 This will limit what kind of products you can use or would be best suited for the type of wood material used.  Some woods will only allow you to use an oil based product (such as IPE wood, featured here), while others you can stain with newer waterborne products.
How is the deck built?
Is it close to the ground (1′-2′ or high up 5′-12′)?
Is there spacing between the decking boards?
If the deck is close to the ground and you want a transparent or semi-transparent stain, using a one coat system with an oil based product is best.  The solid color stains hold up well on decks closer to the ground as well.
The biggest enemy to any deck surface is moisture, so having good ventilation is a key factor. Having good spacing between decking boards and air-flow below the deck will help keep the wood surfaces of your deck dry (which will prevent mildew and rot).
What type of finish would you like to apply?
Do you want a solid color stain (looks like paint) or do you want a translucent/transparent or semi-transparent stain (allows you to see the natural grain of the wood)?
We recommend an oil based finish for translucent and semi-transparent stains and we recommend a waterborne product for solid color stains.
When was the deck built?
The wood doesn't necessarily have to weather prior to staining; it just has to be DRY (typically at or below 15% moisture content).  Once a tree is cut down, the wood starts to decay.  The sooner you can protect the wood from the elements of sun and water, the better off your wood deck will be and the longer it will last.  When you let a deck "weather" you allow it to suck up moisture and then have it dried out by the sun (repeatedly).  The more this happens, the faster the wood of your deck will decay.  This is why unprotected wood turns gray; the gray is the dead wood fibers.  This grayed wood fiber needs to be removed for the stain to penetrate the wood properly.
If you have left your deck to weather (or if it is older deck), you will want to clean it and remove all the dead wood fiber.  If you use a power washer, don't get too close!  The power washer is only meant as a way to help rinse off the deck surfaces.
The tip of the power washer should not get any closer than 10-12″ from any wood surface, otherwise you can damage the wood.  Use a deck scrub brush and a cleaning solution to help remove the dead wood fiber.  Allow the surfaces to dry (usually a day or two), and then you will want to sand the surfaces with 80-100 grit sand paper to remove any "furring" which happens during the process of removing the dead wood fiber and cleaning of the deck surfaces.  This step is critical to create a sound surface for the stain to penetrate into and allow for the best adhesion of the product.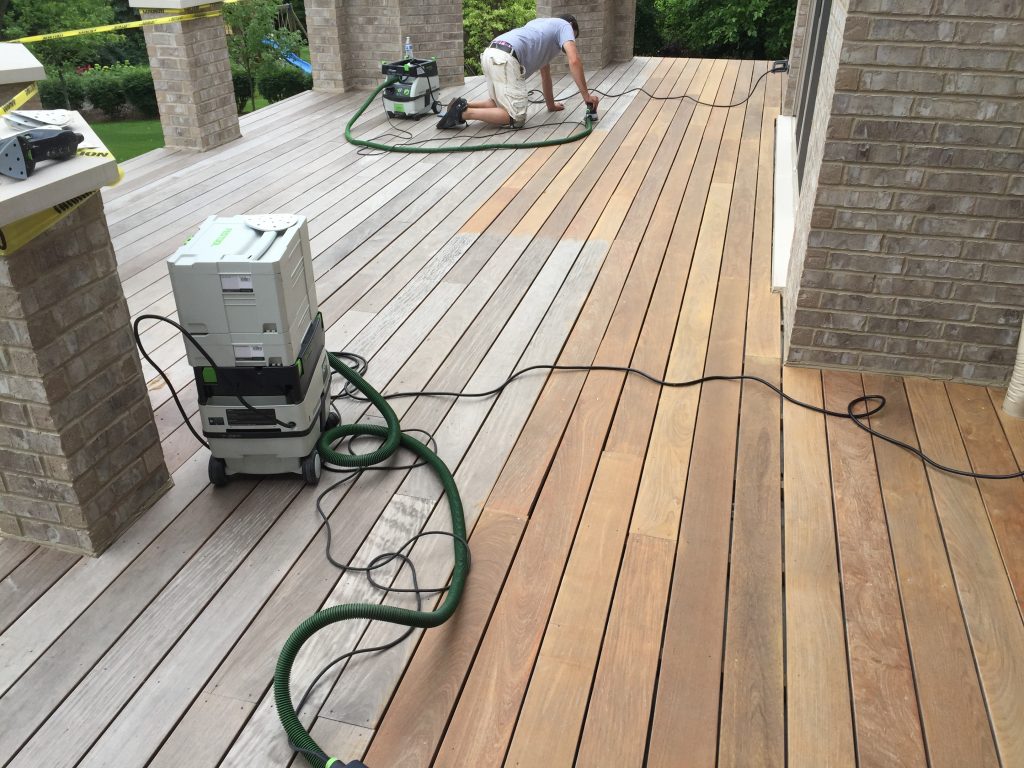 Newer decks
If your deck is brand new and is dry (sometimes within a week and up to a month of being built), it has to be sanded with about 80 grit sand paper to remove mill glaze before applying stain.  This "glaze" is what happens when the wood is cut in the saw mill.  The mill glaze will prevent a stain from penetrating the wood properly and cause premature failure of the finished surface.
Not really a question, but extremely important; Let's set proper expectations…
Deck surfaces are subjected to all kinds of elements, foot traffic and furniture.  A typical solid color finish will last for about 24-36 months and a transparent or semi-transparent finish will last for about 12-24 months before showing signs of wear.  Some higher traffic areas may see signs of wear sooner than that.  Be aware that if you live in a climate that gets snow and ice, be careful if you shovel off the deck and try not to throw salt on the deck surface.  This will definitely shorten the life of the stained deck surface.  Gently clean your deck once or twice a season to keep debris and dirt from the deck surface.  Doing so can extend the life of the product applied.
Some final words…

There are more variables and conditions to think about, but the ones listed above should cover some of the major elements to think of when staining a new deck.  If you have the time and plan to stain your deck yourself, the best advice is to go to a paint store (Benjamin Moore,  Sherwin Williams, or similar) and provide them information about some of the questions above.  They will be able to ask a few more questions and recommend the best product for your deck style and type of wood.
If you don't have the time or just do not want to take on the project yourself, please contact us and we can schedule a time to meet with you and discuss what options are available for finishing the surfaces of your new deck.