Nick Lockwood
Nick is the owner and operations manager at DBK Painting. He has been a professional painter for over 10 years and bought DBK Painting in 2020 after being a longtime employee of the company. Nick has an eye for color and a steady hand. His love of the trade is visible in the work he performs with his team.
Nick Lockwood's Latest Posts
Recent Articles #1
Looking for more information and unbiased testimonials about DBK Painting? Find us on Yelp! http://www.yelp.com/biz/dbk-painting-schaumburg
Recent Articles #2
We use Angie's List to assess whether we're doing a good job keeping our valued customers like you happy. Please visit AngiesList.com/Review/2280856 in order to grade our quality of work and customer service.
We are now interviewing individuals with very little or NO professional painting experience. We want to train the right person or two in the way we do things…the right way. Must be clean, organized and willing to learn. Whether you are looking for a new career or just want to learn a new skill until […]
Due to current growth and to keep up with the demand for our services, we are currently interviewing and looking to hire a new member to our team.  The potential candidate should be an experienced painter or an individual interested in learning a trade as a new career. Must be willing to work in Chicago and […]
We are currently donating one room painted with premium Benjamin Moore paint in an auction to help support Jonathon Burr Elementarty School.  For more information about the auction going on until April 20, 2012, click here. For more information about the one room we have donated, click here.   Hurry, the auction ends on April 20, 2012.
Deciding to sell your home can be a daunting task, especially in today's market.  Here is an example of how staging your home can make a huge difference between selling and having your home sit on the market for months on end.  Four weeks ago we painted the kitchen cabinets in this condo as part of staging […]
We regularly post new information about trends in the painting industry from the latest color trends to information about the latest technology in painting materials.  @dbkpainting on twitter and DBK Painting, LLC on Facebook
We joined the Painting and Decorating Contractors of America (PDCA) in the spring of 2011.  The PDCA is an organization founded in 1884 to help painting and decorating contractors improve their businesses through education programs, local networking meetings, and PDCA Industry Standards.  Find out more about why our membership in the PDCA benefits our customers here. […]
DBK Painting, LLC recently donated a gift certificate for one room to be painted by us to the Prairie Crossing Charter School in Grayslake, IL (a nonprofit public school with an environmental curriculum). They are having an auction on March 12th to support the school and its programs. http://www.prairiecrossingcharterschool.org/event_donors Take a look or participate in the […]
2010 "Hi Mike, I hope you had an enjoyable and relaxing weekend. We love the paint. You and your crew did such a fabulous job. Please thank them all for me. Kyle said they were wonderful guys. I just wanted to let you know that your check will be in the mail tomorrow. Thanks so […]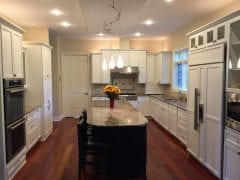 Painting your existing cabinets can be a great way to update your kitchen and it can be done for a fraction of the cost to purchase and install new kitchen cabinets. The many steps we follow when painting kitchen cabinets professionally and properly are as follows; the whole process takes time, patience and attention to […]