Nick Lockwood
Nick is the owner and operations manager at DBK Painting. He has been a professional painter for over 10 years and bought DBK Painting in 2020 after being a longtime employee of the company. Nick has an eye for color and a steady hand. His love of the trade is visible in the work he performs with his team.
Nick Lockwood's Latest Posts
Recent Articles #1
12/15/2005 Hi Mike, just a short note to let you know how happy I am with the bathroom!  It looks great!  I love that finish and the whole room looks bigger.  Thanks for leaving your cards as I will highly recommend you to others!  Thanks, again, Jan   3/02/2005 Mike, You are so sweet to […]
Recent Articles #2
Let's get this blog going!  Hopefully I will catch on quickly and there will be useful information for all to read.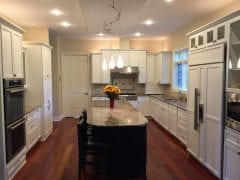 Painting your existing cabinets can be a great way to update your kitchen and it can be done for a fraction of the cost to purchase and install new kitchen cabinets. The many steps we follow when painting kitchen cabinets professionally and properly are as follows; the whole process takes time, patience and attention to […]